NOTE: After Chaia-Sarah's first husband, Elya BERESNIAK died, she remarried Herschel BLINDERMAN who was much older than her and had children of his own. This means that Chana was a half-sister to the BLINDERMAN siblings and this must be why they all listed their brother-in-law, Avrum FRIEDMAN, as their contact in the US when they immigrated.
Rumor has it that Avram Mendel FRIEDMAN or his brother Hymie FRIEDMAN introduced Nathan POMERANTZ & Pauline SAFER and arranged their 1908 marriage. Hymie FRIEDMAN married Nathan's sister, Jennie POMERANTZ in 1912.
*************************************
The start of the Pomerantz page used to have these ISSUES:
1. Some relatives say the third brother was named Charles rather than Samuel. As his name on his immigration record is Schulem, his marriage and death records say Samuel, and all census records refer to him as Samuel, we have no idea why anyone called him Charles! (NOTE: Perhaps there was another brother named Charles - but we have no record of him.)
2. It is unusual that there would be a fourteen year difference between David and Israel. It is possible Nathan and Beila had one or more daughters (or other sons) but to date, we only know of these sons. Lillian Pomerantz-Friedman and Bert Pomerantz-Fine mentioned there was a Gittle Pomerantz who married an un-related Barney Pomerantz. It is possible Gittle was David, Israel and Samuel's sister but to date we have found no information about her. They claimed Gittle's husband, Barney, was the black-sheep of the family but they never specified his offense. (We have found no record of Barney to date!)
GOOD NEWS! We found CHARLES!!! And Charles had a son named BARNETT! (...and just to confuse matters, it looks like Barnett changed his name to Charles after his father died!) (See details in the POMERANTZ HISTORY section.)
*************************************
The Lawyer Sam FRIEDMAN
Henry SPELKE (on the SAFER side) remembered a relative named Sam FRIEDMAN who was a lawyer. He also remembered that Zelig KATZ, an ironworker, fell and injured himself (a true story!).
David KATZ also remembered that Sam FRIEDMAN was both a relative and a lawyer.
Sam was Avrum Mendel's eldest son.
*************************************
Who are these DUBINERs?
Sam Dubiner born 2 MAR 1878 in "Vesoky, Russia" was naturalized 3 OCT 1916. He immigrated 6 SEPT 1904 on the SS Ryndjam, was married to Beckie Sluchanski and had four daughters, Rose (1910), Sarah (1911), Etta (1913) and Fannie (1914). Originally we did not know how he was related but we have discoverd this Sam is SCHAYE, the son of Michal-Aron DUBINER.
"Schje DUBINER", age 26 (b. 1872), immigrated to Philadelphia 16 MAY 1898 on the SS Pennland. He had $19 and was going to his brother-in-law, D. Pomeranzow in New York. As suspected, he is the son of Scholem DUBINER and is the brother of Chana Raisel Dubiner-Pomerantz, Ahron Michal Dubiner and Schraege Feivel Dubiner. Unfortunately, we have been unable to track him in the US or anywhere else.
*************************************
ANN LYNNE POMERANTZ : We have a birth announcement for an Anne Lynne POMERANTZ born to a Sam Pomerantz on July 25, 1948. They lived at 675 Walton Avenue in the Bronx, NY. As Lillian Pomerantz-Friedman had her birth announcement, we assumed she belongs somewhere in this family! Ann foudn this website and called me and we now know she is the granddaughter of Israel and Ida Pomeranz and Sam Pomeranz (her father) was Israel's eldest son.
*************************************
Sam MINTZ: Sibi Shuman told me we had a cousin Sam MINTZ who was in the delicatessen business in the Bronx and then moved to a farm in Lakeland or Lakewood, NJ. Sam was the son of Anna Spelke & Willie Mintz.
*************************************
MORO MYSTERY PARTIALLY SOLVED! ... work in progress
Don and Steve Moro found this site on the internet and contacted me as they believe Bessie ZEMSER-WELLER and their grandmother, Jennie BERGMAN-MORO were first cousins.
*******************************************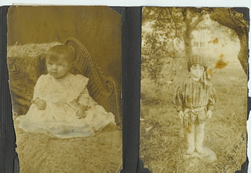 The child on the right is Shirley Levine.
MYSTERIES SOLVED!
Norma Cavey says the baby on the left is her father, Elya Beresniak, about 1910 or 1911.
*******************************************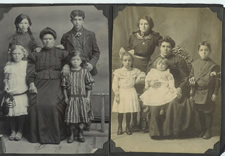 The Photo on the Left: ... We thought this photo was taken about 1891-1892 and that it was a photo of Rosie Pomerantz and four of her children - Nathan, Fannie, Jennie and Frieda. (Her youngest two childern, Sarah and Sam had not yet been born.) Our thinking was that this photo may have been taken as a memento for David to take with him on his 1892 trip to America.
HOWEVER ... Norma Cavey has told us the photo on the left is Chaya-Sarah SAFER-BERESNIAK-BLINDERMAN and her children: back - Runya (Rose) and Yossel (Joe), front - Rachel and Henya (Anna) Blinderman. The photo was more likely a memento for Chaya-Sarah's daughter Celia to take with her when she immigrated to the US in 1910.
We surmise Norma is correct - in part becuase the body language and shirt of the boy in the photo on the left is NOT my grandfather Nathan Pomerantz!
Still no clues about the photo on the right: Who are these people?
*********************************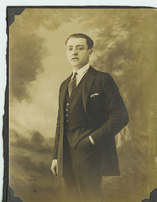 MYSTERY SOLVED! ... thanks to Rozzie Gottlieb!
We asked "Who is this dapper gent?" and got the answer, "this is Zelig SAFER!"
**************************************************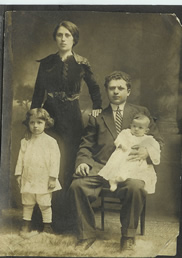 MYSTERY SOLVED ... thanks to Norma Cavey!
Louis & Rose BERESNICK with their sons Eli Alex (aka Elya) and Nathan circa 1914, NYC. (NOTE: Nathan died at age 2.)
Chaia Sarah SAFER married Elya BERESNICK and had at least two children before Elya died. Louis (Leibl), her eldest son, married Rose (Pesche Raisel) EPSTEIN. After Elya's death, Chaia Sarah remarried Herschel BLINDERMAN and had five more children.
Louis named his first son Elya after his father. (Elya was Norma's father.)
*************************************
I originally asked: Do you know these people? This was dated 1922. (This photo originally came from my aunt Lillian Friedman's family photo album.)
MYSTERY SOLVED!
This is Celia KATZ-PERLMAN and her husband Barnet PERLMAN on the occasion of Barnett's 50th birthday. The last picture is Barnett and his daughter Lillian taken at a much later date. Murray Stein recalled visiting Perlman relatives in Queens, NY through the late 1930's. He believed the Perlman's were somehow related to his mother, Shifra (QUATINSKY) STEIN. Matt Stein (Murray's son) got on the case and contacted descendants of the Queen's Perlman's and was sent the two photos on the right above. Realizing the middle photo matched one of my mystery photos, I realized they are related. A bit of digging proved Celia and my gggm, Chayie-Malke KATZ-SEIFER are sisters and through the reseach, we found information on their brother Chetzkel KATZ. (See details on the KATZ History page.)

**************************************************************************************************************
Kartuz – Breze Yizkor Book (1993)
Names of those who died from the Kartuz-Breze Ghetto ( p. 213 -235)
Compiled and Translated by Ellen Sadove Renck - Yizkor Transliterator, Jay Lenefsky & Steve Morse
Here is an excerpt from a list of people in the Kartuz Breze Yizkor Book. The original list consists of about 2200 people out of 4500. Users should be advised that spelling is arbitrary -- transliterated from the Hebrew based on what "looked right," so different spellings of a sought surname should be tried based on soundex-interchangable letters and letter combinations. For example, "p" for "f" , "oh" "eh" "for "a" , "v" for "b" any vowel for any vowel, etc. Names beginning with aleph in Hebrew can begin with any vowel in English transliteration.
From the Kartuz Breze Book -- A (paraphrased) Preface to the Following List
About 4500 Jews lived in Kartuz Breze and its surroundings on the eve of the second world war. Just about all of them died in the holocaust.
We brought here the details of about 2500 men, women and children, residents of our town. In most cases the peoples' full name, where they lived in the town and even family relations were noted. In many cases we brought only the family relation because even though the editors made a collective effort as well as the rest of the former residents of Kartuz Breze, we weren't able to remember their names.
The list of survivors and the list of those who fell fighting are noted further on bringing a total of about 100 names. Thus we are missing a lot of more names altogether from the "Yizkor" list.
The editors and the former residents of Kartuz Breze who are alive today, made every effort to find out the missing names. To our great dismay we weren't able to add more names to the list. It has to be remembered that after 50 and sometimes more years, it isn't possible to remember each and every name. Just so, is it with the pictures that appear in the book. We weren't in many cases able to identify the people. Even though they were in front of us.....
Thus about 2500 names alone are listed in the following lists. But we mourn over 4500 of our brothers, sisters, parents, relatives, neighbors and just simple Jews who were annihilated from this world, just because they were Jews. May our Lord remember them for the better along with the other righteous of the world, and take revenge on the spilled blood of your servants!
Surname

First Names

Where they lived in Bereza

# in Family

Remarks

Dubinski

Ester (widow), 3 sons: Moshe, Pinchas, and Tzvi, 2 daughters: Fruma and Breina

Olner - daughter of Yosha the Coach owner

6

store

Friedman

Alter (his children), daughter Ester, daughter Sheprintza, daughter Sulki, son Shmuel

3 May St.

4

Friedman

Avraham and wife and daughter Leah and her husband and daughter of Leah

End of Shasay next to Bridge #2

5

Friedman

David (Bolshevik) and wife Reizel, daughters: Cherna, Sheindel, Ester; sons: Shmuel, Shimon, Naftali, Moshe, Avraham; Chaim Aryeh and his wife Feigel and their Berel

3 May St.

14

Builder of wooden houses
Cherna ch=chair

Friedman

David (son of Yosef Reuben) wife Mikhla and 4 daughters and a son

Shatz St .

7

Friedman

Fridel widow and son

Pruzany St. across from Bilitzik

2

Glazier

Friedman

Hershel, wife Blumka (daughter of Modish Galprin) and 2 sons

Shasay; lived in Chaya Etel Bilistzik's home

4

Fixed bicycles

Friedman

Icheh and wife and 2 daughters

Market Place across from Serlin

4

Icheh ch=chair

Friedman

Michael and wife, daughter Otka, daughter Rakhel, and daughter Tzipora

Shasay near the post office

5

son of Yosef Reuben

Friedman

Moshe (son of Yosef) and wife (daughter of Benyamin Kobrin)

Market place; lived with Kobrin

2

Blacksmith

Friedman

Nakhman and wife, daughter Zlatka, daughter Feigel, daughter Chana, daughter Henia, son Yosef

7

Friedman

Nakhum-Iche widower and daughter Sheindel,

Beit Chaim

2

Carpenter
Icheh ch=chair

Friedman

Sheina Breina and daughter Henia and her husband and 2 daughters

Shasay next to bridge #2

5

Brought chickens and fish

Friedman

widow of Yosef Reuven and son Shalom and son Hershel

Shatz St .

3

Friedman

Yosef and wife and son Kalman

Shasay across from Sima Shtoker

3

Blacksmith

Pomerantz

Aharon and wife and daughter Liba, daughter Musha, son Meir

Shasay next to Bridge #1

5

Pomerantz

Avraham (widower) and son David

Shasay across from Sima Shtoker

2

Blacksmith

Pomerantz

Avraham and wife and daughter Breina

Olner; next to the public bath house

3

Clothing store

Pomerantz

Avramel and mother and wife and daughter

Pered Stat

4

worked in the Sid factory

Pomerantz

Benyamin (Hichkas) and wife Chaya (husband was a Chassid)

3 May St.

2

Store in the market place Hichkas ch=chair

Pomerantz

Berel (son of Benyamin) and wife and 3 children

3 May St.; lived in parent's home

5

Was supported by father- Benyamin

Pomerantz

Berel and wife and 2 daughters

Post Office St .

4

Soda Factory

Pomerantz

Chaim, son of Velvel the butcher who went to the USA

Shasay across from the post office

1

Butcher

Pomerantz

David and wife (from the village of Sholin)

Olner; across from Vineshtein

2

Pomerantz

Eitzel and wife Leika (daughter of Moshe Gershgoren) and son

Pered Stat

3

worked in the Sid factory

Pomerantz

Eliezer and wife Chana and son and daughter

Post Office St .

4

Soda Factory

Pomerantz

Khama and wife Yona (Teibel) [daughter of Reznik from Afula, Israel] and daughter

Olner; lived in Shmerel Lazerovitch's home

3

Pomerantz

Leibe, wife Sara-Feigel, 4 sons: Ora, Meir, Yitzchak, Shimcha; and 2 daughters: Mosha, Risha, and 2 grandmothers: Rakhel Pomerantz, Fruma Doidovitz

Shasay next to bridge #1

10

Shoemaker

Pomerantz

Liba (widow) and 2 children

Shasay next to bridge #1

3

Her husband was kill in 1939

Pomerantz

Motel, brother Icheh, sister Chana

Shemayahu

3

Pomerantz

Motiyah and wife

Corner of Subinski and the market place

2

Store

Pomerantz

Mushke and husband and daughter

Shasay next to bridge #1

3

Kiosk

Pomerantz

Shabtai and wife (born Lefin) and 2 sons and daughter

Shernetzel St .

5

Blacksmith

Pomerantz

Shalom (son of Zalman) and wife and son

Subinski; lived in father's house

3

Money (foreign) changer

Pomerantz

Shalom and wife and daughter and son

Shasay across from the fire station

4

Merchant

Pomerantz

Shepsel, wife Chaya Freida and son Yisrael and son Benyamin

Pered Stat the last house

4

Blacksmith from the village of Sholin

Pomerantz

Shmuel , wife Sheina and son

Shasay across from the fire station

3

Grocery Store

Pomerantz

Shmuel Issac, wife Rashe

Post Office St .

2

Soda Factory

Pomerantz

Teibel and her sister ( daughters of Motiya)

Subinski

2

Shoe Store

Pomerantz

Yeshayahu and mother and sister and her husband & 2 sons

Shasay across from Goldfein

6

Blacksmith

Pomerantz

Zalman a widower and daughter and her husband

Subinski; next to Lisitzki

3

Money (foreign) changer

Pomerantz

Zelig and wife Liba born Podorovski and daughter

Market Place; lived with father - Motiya

3

Rubinshtein

Efraim, wife Yehudit (daughter of Moshe Liskovski) , Henek and 2 daughters

Links

4

Rags merchant

Rubinshtein

Hershel and wife and daughter Fruma

Post office St.

3

Shoemaker

Rubinshtein

Riva, alone nickname Shasikheh

Across from the public bath house

1

At 01:05 a.m. she would put the chicken outside

Rupin

Mendel (nickname HaLoshe), wife Tila and son Chaim and son Leibl and another son

3 May St. next to Minkovitz

5

Transport merchandise in a wagon from Brisk (Brest Litovsk)

Sapir

and sister from Bludaneya bought Moshe Goldshtein's house

Shasay

2

Owner of the Flourmill

Sapir

Nachman, wife Leah

Links

2

Barber and Musical Instruments

Sapir

Yitzchak, wife Glisha born Baizer, and daughter

Zeditevah

3

Barber and Musical Instruments

Sapirshtein

Avraham and wife and 2 children

Shasay; Across from Leib Tukhman

4

Watch maker

Sapirshtein

Yehoshua and wife Elka. Son Velvel and another son

Shasay; lived with father

4

Watch maker