WELLER / ENGELSON FAMILY HISTORY
Weller Name Origins
Waller, Waler, Weiler, Wehler, Wealer, …
In Yiddish, a veller mench means a "good man."
In Polish, Weler or Veller is a surname that originates from the word vol or wol meaning "wool". The name was common in the towns of Mariampol and Lodz.
In German, wëlle means "'roll' or "bale" and was an occupational name for someone who sold cloth or wool.
In German, wëllen means "'to roll, revolve, or smear" and was an occupational name for someone who made wattle and daub walls.
In German, wëllen also means "'to cause to boil or simmer" and was an occupational name for a smelter, cook, or the like.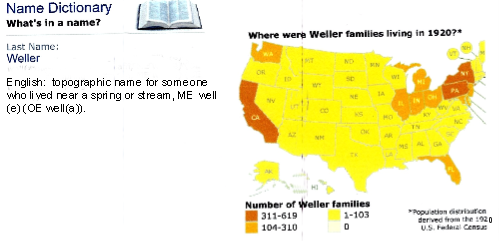 This information was derived from the 1920 US Census.
****************************************************************************************************************
PLEASE BE AWARE: Shimon Weller is listed as GEN 2 within this family tree. As the POMERANTZ and SAFER family trees go further back in time, the generation labels do not match.
GENERATION No. 1
Unknown
GENERATION No. 2
SHIMON WELLER
SHIMON WELLER (UNKNOWN 1) was born sometime before 1865 in KOVNO, and died there about 1900. He married NECHE ENGELSON, daughter of UNKOWN ENGELSON and UNKNOWN UNKNOWN, about 1878 in Kovno. She was born before 1865 in Kovno and died there before 1941 in Kovno.
What Was Shimon Weller's Wife's Name?
Kasril Wealer completed his brother Jacob Weller's death certificate. On it, he reported their mother's maiden name as JENNIE NECHES. Helen (Wealer) Charaton is Kasril's daughter and her Yiddish name is Hinde Neche. Helen says she was named for both of her grandmothers and that Kasril's mother was SCHEINA NECHE. As JENNIE and SCHEINA are names so fundamentally similar in sound, it is possible Kasril could have written JENNIE for SCHEINA. Although it is Jewish custom NOT to name a child for a living relative, it seems that might have happened in this case.
Gussie Weller's marriage certificate states her mother's name as NECHE ENGELSON and that is the name we've used. Unfortunately, we know nothing more about Neche or the maternal side of this family.
Children of SHIMON WELLER and NECHE ENGELSON are:
i. KASRIL ( ISRAEL ) WEALER, b. 25 Jan 1879, Kovno; d. Sep 1968, Roselle, NJ.
ii. JACOB WELLER, b. 07 Jun 1884, Kovno; d. 13 Sep 1944, Coney Island Hospital, Brooklyn, NY.
iii. GUSSIE WELLER, b. 1891, Vilna; d. 23 Aug 1975, NJ.
iv. LENA WELLER, b. 01 Sep 1894, Vilna; d. 1974, Norwalk, CT.
v. FOUR OTHER WELLER CHILDREN (Shirley Weller-Herman confirmed that her father was one of eight children)
Shimon and Neche, and four other children, remained in Kovno and never immigrated to the US. Shimon died around 1904, when his daughter Lena was about ten. One story is that he died of a broken heart because he felt responsible for his part in an accident in a grain mill that resulted in the death of his cousin. Another story is that Shimon died as a result of an accident in a grain mill. After his death, Neche supported the family by working as a rag monger, buying and selling rags from a cart.
Rosalyn Lyons, Lena (Weller) Donsky's daughter, said that as a young child, she used to correspond with cousins who remained in Vilna. The following photo was sent from family in Vilna (in the late 1920's?). We believe the woman in the center was one of NECHE ENGELSON's daughters, or a sister to Kasril, Jacob, Gussie and Lena.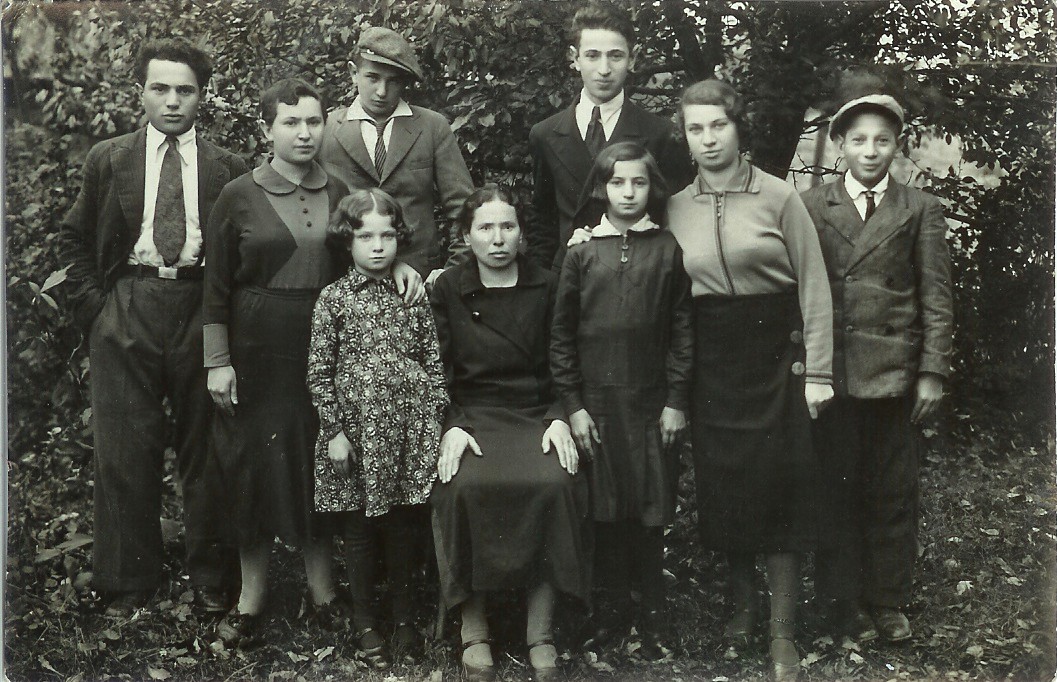 We assume any family members who remained in Vilna perished either at the hands of the Lithuanians by August 1941 or when the Germans cleared out the Kovno ghetto in 1944.
GENERATION No. 3
KASRIL ( ISRAEL ) WEALER (aka Isidore Waller)
KASRIL ( ISRAEL ) WEALER (SHIMON 2 WELLER, UNKNOWN 1) was born 25 Jan 1879 in Kovno and died Sep 1968 in Roselle, New Jersey. He married SARAH BLITZ (or KATZELNICK) 1909 in Kovno. She was born 1886 in Vilna and died 1959 in Elizabeth, New Jersey. SARAH was also called Teibl.
Sources: SS Death Index; Frances Wealer's birth certificate lists her mother as Sarah Blitz; Celia Weller's death certificate lists her father as Isidore Waller and her mother as Sarah Katzelnick.
Kasril and Sarah immigrated to the US with their two-year-old son Louis. Their ship, the SS BRESLAU, left from Bremen and arrived in Galveston, TX in July 1912. Tthey were quarantined in Galveston as Louis contracted chicken-pox on the way over. Kasril is circled below in a photo of men aboard the Breslau.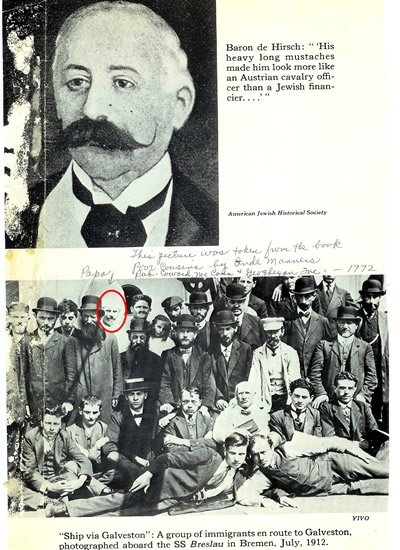 Kasril and Sarah lived and worked in Texas, moving on to Missouri, Ohio and New York before settling in New Jersey. Their other children were born along the way. Sam was born in Missouri, Celia in Ohio and Frances and Helen in New Jersey.
Kasril was a cabinet maker. During World War II he worked as a carpenter in airports in the New York-New Jersey metropolitan area. He was self-employed after the war.
Sarah inherited von Recklingshausen's disease, also known as neurofibromatosis, from her father. The genetic disorder is dominant. It was passed on to at least two of her children, Sam and Helen. We do not know whether Celia carried the gene or if it accounted for the brain tumor that led to her death.
During the polio scare around 1916, Kasril moved to Roselle, NJ, where in 1923 he built a house at 1007 Chandler Avenue. It was a two-story house. The family lived upstairs and rented out the downstairs apartment. Louis and Sam slept on the un-heated, glassed-in porch as there was not enough room for them inside. Later, Louis built a cabin for himself in the attic, that he and everyone else called his butkela. Sarah kept live fish in the bathtub to make gefilte fish, enjoyed her tea with cherry preserves and saved her tea bags.
The 1930 census shows them livng in Roselle, NJ: Isadore (53) (implying a birth year of 1877), Sarah (45) , Louis (19), Sam (16), Cecilia (14), Frances( 11) and Herin (Helen/Hindy) (2 yr. 11 mos). It says they own their house which was valued at $3,050 and Isadore is a carpenter, Louis is a shoemaker and Sam is a clerk in a hardware store.
Kasril and his son Louis were members of the Communist Party from about 1940 to 1950. Kasril took night classes at Roosevelt High School until he was into his eighties. In 1959, he went to a studio by himself to have a picture taken so that his children would remember him (see Weller Photo Album.) Kasril died in a Workmen's Circle nursing home in New Jersey. He and Sarah are both buried in a Workmen's Circle plot in a cemetery in Deans, New Jersey.
Children of KASRIL WEALER and SARAH BLITZ are:
i. LOUIS WALER, b. 05 Dec 1910, Vilnius; d. Mar 1987, Linden, NJ ; m. JUDY ORTNER about Dec 1970, NJ. Source: SS Death index. LOUIS WALER was a welder and is buried in NJ.
ii. SAM WALER, b. 07 May 1913, St. Joseph, Missouri; d. 09 May 1970, Linden, NJ.
iii. CELIA WEALER, b. about 1916, Ohio; d. 1930, at age 14 of a brain tumor, in NY.
iv. FRANCES WEALER, b. 14 Feb 1919, NJ; d. 17 Aug 1991, Elizabeth, New Jersey.
v. HELEN WEALER, b. 20 Apr 1927, Elizabeth, NJ; m. WILLIAM CHARATON, 1961; b. 25 Jul 1928; d. 02 Aug 1999, Brooklyn, NY. They were divorced in 1971. Occupation: NYC Secretary
***********************************************************
NOTE: The WELLER and the ZEMSER families are related because JACOB WELLER married BESSIE ZEMSER.
JACOB WELLER
JACOB (aka Jake) WELLER (SHIMON 2 , UNKNOWN 1) was born on either 08 May (as per his naturalization papers) or 07 Jun 1884 (as per family records). We believe he was born either in Kupiskis, Kovno or Vilna, Lithuania.
He immigrated to the US in 1904, leaving Rotterdam on the SS Noordam on July 30, 1904 and arriving at the Port of New York in the USA on Aug. 8, 1904. He was single and a tailor. He had five dollars and he was headed to his cousin "Mr. Movsahowitz (?) at 43 Edrid St. [Eldridge St.] NY". The ship manifest lists him as Jacob Welles, age twenty, from London.
JACOB married BESSIE (BASHA) ZEMSER who was born 1888 in Radin or Vilna. Jacob was twenty-four when he married twenty-year-old Bessie. Their daughter Shirley claims they knew each other in Vilna. They were married in New York City on 06 Dec 1908 (NYC Marriage Certificate No. 24348 or 22348) although family records show they were married on 24 Nov 1908. When they married, Jacob was living at 227 Clinton Street and Bessie at 195 Clinton Street. If they didn't know each other from Vilna, they may have met in the neighborhood.
Jacob worked in a factory and was an "operator" sewing bathrobes. When Jacob and Bessie were first married, they lived on the Lower East Side, first at 88 Monroe Street, then at 133 Henry Street, and then at 187 Clinton St. where Shirley was born.
The 1910 US census shows Bessie, Jacob and their six month old daughter Sarah (Shirley) living on Clinton Street. It states Jacob immigrated in 1905 and Bessie in 1908 and that Jacob was 24 (implying a birth year of 1886) and Bessie was 20 (implying a birth year of 1890). Jacob spoke English and was an operator in a clothing shop. They had a border living with them, Morris Rosinstein. Morris, who immigrated in 1910, was 22 and was a mattress maker in a mattress factory.
Jacob filed a petition for naturalization on July 14, 1910, and was granted citizenship on February 9, 1911 (NY County certificate #179582). His naturalization papers state he was 5'7" and 135 lbs. Louis Cohen, a merchant, and Jenna Max Fein, a housewife, were the witnesses.
Sam was born in 1912 and in 1915, the family moved to South 2nd Street in Brooklyn where Frances was born. In 1916, Jacob and Bessie took their three children to Roselle, New Jersey for a few years to avoid the polio scare in New York. There they lived on a farm in Roselle where they had a cow, chickens and ducks. Jacob grew vegetables on top of the cowshed he built and he walked to Elizabeth, New Jersey everyday to take the train to work in New York City.
By 1920, the family had moved back to the city and lived on Bathgate Avenue in the Bronx. The 1930 census shows "Leily" (Lillian) age nine has been born and they were paying $45 rent for their apartment in the Bronx. "Jack" Weller is a tailor in a coat factory and Shirley, age 20, is a bookkeeper in an office. Sam, age 18, must still be in school as his occupation is listed as "none".
We know of three places they lived in the Bronx -- Claremont Parkway, Bathgate Avenue at E. 174th Street and Crotona Park South. Years later, after Sam had married Flora in 1937, Bessie and Jacob moved back to Brooklyn, to Brighton Beach, where they remained for the rest of their lives.
Jacob died in Brooklyn at the age of fifty-nine from uremia and a cerebral hemorrhage. He he died 13 Sep 1944 in Coney Island Hospital, Brooklyn, New York and was buried 14 Sep 1944, in Mt. Hebron Cemetery in Queens, New York, in a Workmen's Circle plot.
Official death records show Jacob as "Waller" rather than "Weller" but it may be because his brother Kasril filled in the information on his death certificate and Kasril typically spelled his name "Wealer". Other spelling anomolies included the 1920 US census listing the name as "Wehler." We have seen the named spelled as: Weller, Waler and Wealer.
Bessie and Jacob's marriage certificate is confusing:
1. Jacob reports his parents were "Yisrael Waller" and "Lena Angelson". However, Jacob's brother was Yisrael (Kasril) and his sister was Lena. We believe that either his limited understanding of English and perhaps nervousness accounts for the confusion. His sister, Gussie Weller, reported her parents as "Sam Waler" and "Neche Engelson" on her marriage certificate; we believe Gussie is correct.

2. Bessie reported her parents were "JACOB Zanser and Marjasha Streletsky". At first, we thought she confused her father's name with the name of her husband-to-be as some family history suggests Mariasha was married to "RAFAEL" Zemser. However, Bessie's brother, Sam Zemser, lists his parents as "Jacob and Mariasha" on his marriage certificate in 1917. So it seems her father's name really was Jacob Zemser.
Children of JACOB WELLER and BESSIE ZEMSER are:
i. SHIRLEY (SARAH) WELLER-HERMAN-STRASSLER, b. 25 Oct 1909, Manhattan, NY.
ii. SAMUEL WELLER, b. 19 Mar 1912, Brooklyn, NY; d. 09 Nov 1997, Pembroke Pines, FL.
iii. FRANCES WELLER-ALBERTSON, b. 20 Aug 1915, Brooklyn, NY; d. 21 Apr 1999, FL.
iv. LILLIAN WELLER-NEGRI, b. 22 Mar 1921, Bronx, NY; d. 27 Feb 2003, Los Angeles, CA.
GUSSIE WELLER (aka Gussie Shapanka)
GUSSIE WELLER (SHIMON 2 , UNKNOWN 1) was born in 1891 in Vilna and died 23 Aug 1975 in NJ. She married MORRIS SHAPANKA 05 Jun 1913 in Brooklyn, New York, son of HYMON SHAPANKA and B. BURSTEIN. Morris was born 1888 in Russia (Source: marriage certificate) and died 03 Feb 1941 in NJ. After his death, Gussie married HARRY LIBBY in about 1950. Harry died after 1977.
Immigration records show that "Gittel Weiler", age seventeen, born in Vilna, arrived in NY on 23 Jul 1906 on the Vaderland that sailed from Antwerp. Her US contact was her brother, J. Weler, living on 237 E. 113 or 115 St., NYC. Although we are certain that J. Weler was Gussie's brother Jacob, weI have not been able to verify that he lived at the contact address.
When Gussie married Morris, they were both living at 323 E. 8th Street in Brooklyn. Israel Kessler and Victor Brizel witnessed the marriage. (Source: NYS Certificate and Record of Marriage #245 Jan 5, 1913.) NOTE: The age on Gussie's marriage certificiate conflicts with her age given at the time she immigrated.
To date, we do not know how or when Morris came to the US or settled in New Jersey. Morris owned a shirt factory in Jamesburg, NJ which burned to the ground. Then, with his brother, Sam Shapanka, he co-owned a large hotel, a farm and a movie house, the only movie theater in Jamesburg. Gussie was a dressmaker and sewed ladies dresses in a factory she owned with Milton and Sydney. After Morris died, Gussie lived with Hy and Ethel, her son and daughter-in-law, until she married Harry Libby and moved to Connecticut. She died in a nursing home in New Jersey.
Gussie and Morris are buried in the United Hebrew Cemetery, Staten Island, NY
Children of GUSSIE WELLER and MORRIS SHAPANKA are:
i. HY SHAPANKA, b. 14 Nov 1913; d. 13 Apr 1976, NJ.
ii. SIDNEY SHAPANKA, b. 01 Dec 1916; d. 16 Apr 1986, NJ.
iii. MILTON SHAPANKA, b. Dec 1921; d. 23 Dec 2002, NY.
Sidney enlisted in the army during World War II; Milton spent the war in Hawaii working with airplanes. Hy owned a trucking business. His wife and children took it over when he died; they also ran a warehouse business that was sold when their son Michael went to law school.
LENA WELLER (aka Lena Donsky)
LENA WELLER (SHIMON 2 , UNKNOWN 1) was born 01 Sep 1894 in Vilna and died 1974 in Norwalk, CT. She married HARRY DONSKY in 1917, son of ABRAHAM DONSKY and RACHEL UNKNOWN. He was born 25 Apr 1883 in Vilna, and died 25 May 1970 in Norwalk, CT.
Source: 1930 census
Lena had already left home by the time she was nine or ten years old. She was probably living with other relatives and where she worked selling clothes. She was the last of her siblings known to immigrate to the USA. She left Europe in 1914 when she was about twenty years old.
Immigration records show " Lea Wejler", age twenty, single from Wilna, traveling with KALMAN WEJLER, single, age twenty-one, arrived 23 Mar 1914, on the SS Carmania that sailed from Liverpool. Lea is listed as Kalman's sister. They are headed to their sister "M. Shapanko" in Brooklyn, NY. Lea states that her passage was paid by her sister; Kalman states he paid his own passage. Lea is listed as having twenty-five dollars. Both could read and write. She is listed as a seamstress and he as a tailor. They list their mother, "[?emen] Wejler", as their nearest relative back home.
WHO IS KALMAN? We have found records of a Pesia Weler from Kovno who was murdered in the Holocaust. Her parents are listed as "Kalmen and Dvora." Could it be that Kalman returned to Kovno?
Lena was very disappointed when she got here. She thought she was coming to the goldene medina, but rather than finding the streets paved with gold, she found New York City to be dirty. She regretted leaving Vilna, a clean and pretty city, to live in poverty. Most men left Vilna so as not to serve in the Russian Army. Most women left for a better life. However, in her new life, Lena, like many women, worked in a factory sewing clothes. She carried her sewing machine back and forth to work each day on her head.
Rumor has it that my grandfather Jake introduced his sister Lena to Harry. Harry had immigrated in 1904 and worked as a cutter and pattern maker in a clothing factory in Pennsylvania. Lena and Harry were married in Philadelphia. When their son Abe was young, they moved to New Jersey where Harry worked in Morris Shapanka's shirt factory until it burned down. When Abe was about nine and Rosalyn two, they moved back to Pennsylvania. Lena was a dressmaker and pattern maker and she also had private clients. She sewed all of Rosalyn's dresses. By 1930, Lena and Harry were both naturalized citizens, renting an apartment in Pennsylvania for twenty-five dollars a month.
Harry and Lena are buried in Mt. Jacob Cemetery, Collingdale , PA.
Children of LENA WELLER and HARRY DONSKY are:
i. ABE DONSKY, b. 19 Oct 1918, PA; d. 25 Jun 2004, PA.
ii. ROSALYN MAY DONSKY-LYONS, b. 07 May 1926, NJ; d. 11 Jan 2009, MI.

ÜHISTORY OF NEXT WELLER GENERATIONS
| | | | |
| --- | --- | --- | --- |
| | DISCLAIMER: THIS IS WORK IN PROGRESS. WE ARE NOT SURE THIS INFORMATION IS ENTIRELY CORRECT, AND WE KNOW IT IS INCOMPLETE. | | |