Willie Pomerantz: The Golden Gloves Boxer
Chicago Tribune sports editor Arch Ward in 1923 conceived the idea of a city-wide amateur boxing tournament, to be sponsored by the newspaper. Each champion was awarded a miniature golden glove, which gave the Golden Gloves tournament its name. However, boxing became illegal in Illinois in 1924, so the tournament seemed to be a one-time event. In the meantime, the New York Daily News originated a similar championship tournament for amateur boxers on the East Coast in 1927.
The Illinois Legislature made boxing legal once more, primarily so the second Dempsey-Tunney fight could be staged in Chicago in September of 1927. The following year, the Golden Gloves tournament was revived, with the New York and Chicago newspapers holding their own area tournaments. Winners of those tournaments then fought for the national Golden Gloves championship.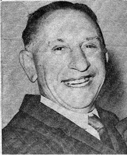 Willie Pomerantz, 1963
(way after his boxing career was over!)
We had a New York Golden Gloves boxer in our family!
Willie Pomerantz may have fought as "Nathan Pomerantz" until he was old enough to qualify legally. Rumor has it he won a medal from the Metropolitan Boxing Association when he participated in the Silver Cups. He must have been a feather weight boxer as his granddaughter, Laurie, reports he was short and slight. His nephew, Lenny, reports that Willie's mother, Lena, pooh-poohed Willie's boxing trophies asking "why doesn't he get a real job instead of this boxing nonsense?".
Many other newspapers got involved during the 1930s, with each conducting a championship tournament leading up to regional and national championships. The tournaments are now conducted by an independent organization, Golden Gloves of America, Inc. Profits are used to promote the development of amateur boxing.

--- or continue below
Jewish Boxers?
Between 1910 and 1939 there were 26 Jewish world-boxing champions at a time when the sport was an integral part of American popular culture. Economic and social conditions created a fertile environment for Jewish contributions to boxing to flourish during this period in American history because the sport offered opportunities for rapid economic advancement and social mobility.
There were thousands of Jewish boxers during the 1920s and 30s and one-third of all professional boxers were Jewish. Promoter Mike Jacobs staged 61 championship fights and 320 boxing cards at Madison Square Garden, and was instrumental in bringing Joe Louis to New York and steering him toward the heavyweight championship. Nat Fleischer was the publisher of "The Ring" magazine (the Bible of Boxing), the sport's most respected and influential magazine for more than 50 years. The Everlast company, the largest manufacturer of boxing apparel and equipment, was started by Jacob Golomb in 1910. In 1925, Golomb designed elastic-waist trunks to replace the belted trunks then worn by boxers. Everlast also designed boxing gear for heavyweight champion Jack Dempsey.
Boxing was also popular among young Jews who took classes in gyms at the Chicago Hebrew Institute, and New York 's 92nd Street Y and the Lower East Side 's Education Alliance, and who found modern Jewish heroes in the professional boxers.
Sting Like a Maccabee: The Golden Age of the American Jewish Boxer, opened at the National Museum of American Jewish History on Sunday, November 21, 2004. The show took the gloves off on American Jewish contributions to the cultural, economic and athletic history of boxing. The exhibit title was ironic, because it borrowed from Bundini Brown's poetry that inspired Muhammad Ali, "Float like a butterfly, sting like a bee." Funny thing is, Brown converted to Judaism and wore a Star of David around his neck.
Guest Curator Mike Silver said the show was filled with vignettes of people, both in and out of the ring, who have contributed to boxing's colorful history. The exhibition told the story of the sport's pioneers, most notably British boxer Daniel Mendoza, recognized as the first Jewish boxing champion (1791-95) and considered by many historians as the father of scientific boxing. Also highlighted are Benny Leonard, "Slapsie" Maxie Rosenbloom, and triple champion Barney Ross, who later won a Silver Star for his service in World War II and provided the inspiration for the movies "Body and Soul" and "Monkey on My Back."
Leonard, one of the great Jewish boxers, took on "Irish" Eddie Finnegan in a western coal mining town in the early part of the twentieth century. According to an anecdote related in Peter Levine's " Ellis Island to Ebbets Field: Sports and the American Jewish Experience," cries from spectators urging Finnegan to "kill the kike" or "murder the Yid" enraged Leonard, who began pummeling Finnegan. Holding on for dear life, "Irish" Eddie Finnegan grabbed Leonard in a clinch and pleaded for mercy, gasping in Yiddish that his real name was Seymour Rosenbaum.
"I tell people," fight promoter J Russell Peltz says, "that Jewish fighters were as tough as they come … but they were afraid of their mothers. Which is why so many changed their names." There were three reasons for the name changes. First, to have a catchier name. Second, to keep the family from knowing. Third, to take on an Irish name because Irish fighters were crowd-pleasers."
The first American Jewish champion? Would you believe it was Harry "The Human Hairpin" Harris? Rosenbloom, great fighter, awkward nickname. "Slapsie Maxie Rosenbloom," sighed Peltz, who lent more than a dozen items to the display. "A sensational fighter, who just couldn't punch hard. He fought 40 times a year, fought against everybody out there. And every fight went the full 10 rounds because he couldn't knock you out."
"Boxing was foreign to the values and traditions of immigrant Jewish parents. In order to avoid familial conflict many Jewish sons changed their names when boxing so their parents would not find out. In the early years of the last century many Jewish boxers, especially those living in areas where there were small Jewish populations, took Irish names. This was done not only to avoid parental condemnation and worry, but also to enhance their marketability since Irish fighters had a reputation as tough crowd pleasers," said Silver, who was Guest Curator of the exhibition.
"Two of these Jewish boxers who adopted Irish names eventually won world championships. They were Al McCoy, who was middleweight champion from 1914 to 1917, and whose real name was Al Rudolph, and "Mushy" Callahan, whose real name was Vincent Morris Scheer, who was junior welterweight champion from 1926 to 1930."
"These were the sons of immigrants," said Silver, a boxing historian and journalist. "This (boxing) was a way to move up and out of the ghetto. A preliminary boy in the '20s could earn more in a four-rounder than his sweatshop-laboring father earned in a week.
"In many homes, though, it was thought of as a shonda (a sin) for a Jewish boy to turn to boxing. It was like going on the road to be an actor. What kind of bum is that? It softened the blow when the fighter starting bringing home the money."
"The exhibition, in addition to telling the fascinating story of the Golden Age of Jewish boxers, also revealed how participation in boxing was part of the struggle to gain access and acceptance into the social and economic mainstream of America ," Silver said.
The information above was borrowed from a number of sources. For more information see:
– When Boxing Was a Jewish Sport - a book by Allen Bodner

| | | | |
| --- | --- | --- | --- |
| | DISCLAIMER: THIS IS WORK IN PROGRESS. WE ARE NOT SURE THIS INFORMATION IS ENTIRELY CORRECT, AND WE KNOW IT IS INCOMPLETE. | | |