The Pomerantz Siblings - circa 1950's
(italic = spouse)
STANDING: Nathan Pomerantz, Nathan Hershkowitz, Sam Levine, Sam Udin, Hyman Friedman SITTING: Pauline Pomerantz, Fannie Hershkowitz, Sarah Levine, Frieda Udin, Jennie Friedman
NATHAN POMERANTZ (son of David)
NATHAN POMERANTZ (DAVID 2, NATHAN 1) was born about 02 Feb 1877 in Kamenets-Litovsk, Belarus, and died 20 Apr 1962 in Brooklyn, NYC (Coney Island Hosp). He married PAULINE SAFER 16 Aug 1908 in Brooklyn, New York, daughter of YITZCHAK-ISAAC SAFER and CHAYIE-MALKA KATZ ( Marriage Certificate # 6332). Pauline was born 15 May 1882 in Pruzzeneh (Pruzhany), and died 07 Feb 1968 in Flower 5th Ave Hospital, NYC.
ISSUE: Nathan arrived in the US in June of 1902 and stated his age to be 21 implying he was born in 1881. This agrees with the age on his eldest daughters' birth certificate but conflicts with (1) his tombstone that implies he was born 1883; (2) his naturalization papers from 1925 that show him as being born in 1878; (3) his WWI draft registration card that shows him being born May 1, 1877; and (4) his WWII draft registration card that states he was born in 1878.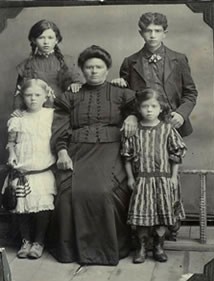 Rosie (Dubiner) Pomerantz and Four of Her Children circa 1892 - Rear: Fannie and Nathan; Front: Jennie, Rosie, and Frieda
This photo of Rosie and four of her children was taken prior to the birth of Sarah and Scholem (Sam). Therefore we know the photo was taken prior to 1896 as Sarah's claims re: having been born in 1896 seem accurate. We suspect the photo was taken about 1891-92, perhaps as a memento for David to take with him on his 1892 trip to America. The two younger children in the photo, Jennie and Frieda, appear to be five and four years of age. Fannie seems to be about nine or ten and Nathan fourteen or fifteen. Doing the math, it seems Nathan was born 1877. This would have been about two years from the time David and Rosie were married.
Immigration: NATHAN POMERANTZ immigrated 03 Jun 1902, on the ship FRIESLAND. His manifest states he was twenty-one, but if our assumptions are correct, he was twenty-five. PAULINE SAFER-POMERANTZ immigrated 23 Aug 1904 on the ship POTSDAM from Rotterdam, Netherlands at age twenty.
We believe Nathan was thirty-one and Pauline was twenty-six when they married although their marriage certificate states Nathan was twenty-eight and Pauline was twenty-two.
Nathan and Pauline's Wedding Invitation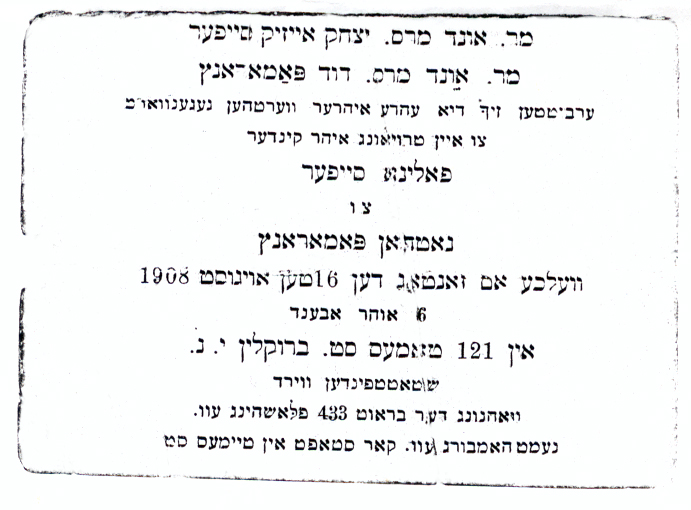 Rather than using their Yiddish names Pesche Fraida and Nachum Ishiah, their American names Pauline and Nathan were spelled out phonetically in Yiddish on this invitation. It is interesting to note even though they barely spoke English at the time, they used their Americanized names. The month August and Thomas St. are understandably spelled out phonetically. Rough translation: Mr. & Mrs. Yitzchak Isaac Safer (Pauline's parents) and Mr. & Mrs. David Pomerantz (Nathan's parents) invite guests to celebrate the wedding of Pauline Safer to Nathan Pomerantz on Aug. 16, 1908 at 121 Thomas Street , Brooklyn, NY. NOTE: The Safer's did not immigrate to the US until 1921 and therefore were not actually present at this wedding.
When Nathan and Pauline first married, they lived in Williamsburg, Brooklyn where they had a small neighborhood grocery store. Every Sunday morning, Nathan would walk across the Williamsburg Bridge to his father's grocery storeroom on the Lower East Side in Manhattan to procure stock. He walked back carrying lox, bagels and other items on his back.

The Williamsburg Bridge, NYC
When his three daughters were of age, they were sent across the same bridge to scrub floors in their grandparent's home every Friday afternoon, in preparation for Shabbat. Lillian reported that her grandmother, Chana-Raisel (Rosie), always inspected her petticoats to make sure they were clean! All three girls worked in their parent's grocery store after school and on Sunday. All three girls took music lessons and when Flora graduated from HS, Lil bought her a violin (for $90) as a graduation present.
The family moved from Williamsburg to Brighton Beach when Bert was in HS and opened a produce store across the street from Nathan's synagogue.
Nathan's Business Card
Apparently only men worshipped in Nathan's tiny synagogue and Pauline went to a different shul up the block! Lil, Bert and Flora all said that Nathan was a really good man but he was not a business man. He never earned a lot of money, never knew how to tie his tie, and he preferred to study torah and the Talmud. He never learned much English and he never raised a hand to his daughters. Once the girls were married, Nathan delivered a bag of fruits and vegetables every Friday to each of his daughter's homes.
NATURALIZATION : Nathan became a naturalized US citizen April 3, 1925 at the age of forty-eight (although his naturalization papers say he was forty-six). At the time, he lived at 429 Flushing Avenue, Brooklyn. His naturalization certificate # 1932092 describes him as: Height 5'9" Brown Hair, Brown Eyes, Fair Complexion, Origin: Russia.
Pauline was naturalized November 26, 1940 at the age of fifty-eight. At the time, they lived at 1875 W 9th St, Brooklyn, NY. Her naturalization certificate (Certificate # 4784962 Petition # 284215) describes her as: Height: 5'6" and 190 lbs.; Eyes: Brown; Hair: Gray; Complexion: Fair; Origin: Polish. When the judge who swore her in as a citizen asked what she would do for her country, she replied "I will cook for the boys in the army." The judge said she would make a wonderful citizen.
Nathan died in shul (Brooklyn, NY) on the second day of Passover, April 20, 1962 at the age of eighty-one. They were living at 11 A Brighton 10th Path at the time of his death. Pauline died February 07, 1968 in Flower 5th Ave Hospital, NYC at the age of eighty-six. Cause of Death: gangrene (after she refused to have her leg amputated). They are both buried in Beth David Cemetery in Elmont, NY.
Children of NATHAN POMERANTZ and PAULINE SAFER are:
i. LILLIAN (POMERANTZ) FRIEDMAN, b. 29 Jun 1909, Brooklyn, NY ; d. 07 Dec 1995, Deerfield, FL.
ii. FLORA GLADYS (POMERANTZ) WELLER, b. 18 Dec 1912, Brooklyn, NY ; d. 12 Jun 1991, Pembroke Pines, FL.
iii. BERTHA (BERT) (POMERANTZ) FINE, b. 10 Oct 1914, Brooklyn, NY ; d. 12 Jul 2000, Gainesville, FL.
After Bert married Jules Fine, they lived in Flatbush and then moved to Fairlawn and then Pompton Lakes, NJ. They ran a luncheonette in Newark and eventually an insurance business. After Bert left Brooklyn, Flora and Sam moved to Bayside, Queens, NY and shortly after, Lil and Charlie sold the Gold Theatre in Brooklyn and purchased the Little Neck Theatre in Queens and they moved to Great Neck, NY. Later in life, all three sisters moved to south Florida.
FANNIE POMERANTZ (aka Fanny Hershkowitz)
FANNIE POMERANTZ (DAVID 2, NATHAN 1) was born about 16 Aug 1881 in Kamenets-Litovsk, Belarus, and died 03 Jun 1961 in NYC. She married NATHAN HERSHKOWITZ, son of Morris Hirschavitz and Yetta Dobrin, on 20 Dec 1904 in NY(NYC Marriage Certificate # 26092). Her husband, Nathan, was born Apr 1879, and died 25 Nov 1959 in NYC.
Fannie immigrated to the US as "Frume Pomerancz" on 29 Aug 1899. She came on the SS BULGARIA that sailed from Hamburg. According to the ship manifest, she was sixteen (although we believe she may have been nineteen) and was traveling alone to meet her father, David "Pomerance", in New York. He had paid her passage and she had $25. Her last residence was in "Kemenests". She was able to read and write and was in good health. According to the manifest, she was never in prison, was not a polygamist, was not under contract in the US and was not crippled or deformed. She is listed on line 3, page 0651 of the ship manifest.
ISSUE: Family recollection is that Fanny was the eldest girl in the family. We agree with that. Immigration records state she arrived in 1899 at age sixteen, implying a birth year of 1883. Her marriage certificate state she was nineteen in 1904 implying a birth year of 1885 and the 1910 US Census states she was twenty-six, implying a birth year of 1884. Based on the photograph shown above, we believe Fanny may have been born as early as 1881.
Fannie Hirshkowitz reported David Pomerantz's death in 1951. The Hershkowitz's lived at 2960 Brighton 3rd Place in Brooklyn at the time.
Children of FANNIE POMERANTZ and NATHAN HERSHKOWITZ are:
i. ADA (HERSHKOWITZ) COLUMBUS, b. 13 Nov 1906, NYC; d. 23 Sep 2004. NOTE: Ada was originally named IDA.
ii. LIL (HERSHKOWITZ) OBERST, b. 20 Sep 1908, NYC; d. 12 Apr 2000.
iii. (MOSES) MARVIN J . HIRSCH, b. 22 Feb 1910, NYC; d. 15 Oct 1990. NOTE: Marvin was originally named MOSES. By 1920, he had changed his name to Morris. Sometime after that he became Marvin.
iv. SYLVIA (HERSHKOWITZ) BRESK, b. 28 May 1913, NYC (Source: SS Death index); d. 16 Dec 1997, FL
v. JULIA (HERSHKOWITZ) BUCHBINDER, b. 11 Feb 1917, NYC, d. 30 Dec 2004, Lake, IL.
vi. EVELYN (HERSHKOWITZ) BREITMAN, b. 18 Jun 1924, NYC.
NOTE: At some point in their childhood, the eldest sister Ada, decided that the children's names
were too "old country" and she summarily went about renaming them. Hence, she went from Ida to Ada, Morris became Marvin J. Hirsch (the "J" never stood for anything!), Minnie became Sylvia. Rumor has it Lily's name may have been Naomi. Julia and Evelyn hadn't been born at the time.
JENNIE POMERANTZ

(aka Jennie Friedman)
JENNIE POMERANTZ (DAVID 2, NATHAN 1) was born 1886 in Kamenets-Litovsk, Belarus, and died Jun 1979 in NY. At the age of 22 she married HYMAN FRIEDMAN 8 Mar 1912 in NYC (NYC Marriage Certificate # 6833). He was 24 when they married having been born about 1890 in Kamenets-Litovsk, Belarus, and died Mar 1955 in NYC of lung cancer. Note: H.B. Radisch witnessed their wedding along with Aaron Potchinsky.
JENNIE POMERANTZ immigrated to the US from Kamenets-Litovsk on 03 Jun 1902. She arrived on the ship FRIESLAND with her mother and siblings. The ship manifest states she was 16 years of age, implying a birth year of 1886. The 1910 US Census lists Jennie as 22 years of age, implying a birth year of 1888. We suspect she was born in 1886.
The 1930 US Census shows them living at 764 Sackman Avenue, Brooklyn, NY in a home they purchased for $9,000. Hymie (listed as HERMAN) was an iron worker. They state they were both from Malech, Russia and grew up speaking Yiddish. Hymie also states he immigrated in 1906. By this time, their daughter Sylvia was seventeen and was working as a stenographer. Their two sons, Isadore (15) and Julius (13) were still in school.
Rumor has it that Avram Mendel Friedman, a cousin of Jennie's husband, Hymie Friedman, is the person who introduced Nathan and Pauline and arranged their marriage!
Children of JENNIE POMERANTZ and HYMAN FRIEDMAN are:
i. SYLVIA (FRIEDMAN) GOTTLIEB, b. 26 Jan 1913, NYC; d. 29 Dec 1986.
ii. IRVING (FRIEDMAN), b. about 1914, NY; d. about 1971, NYC (cancer).
iii. JULIUS (FRIEDMAN), b. after 1914, NYC.
FRIEDA ( FRAIDEL) POMERANTZ (aka Frieda Udin)
FRIEDA ( FRAIDEL) POMERANTZ (DAVID 2, NATHAN 1) was born 1887 in Kamenets-Litovsk, Belarus , and died 17 Oct 1973 in Far Rockaway, NYC. She married SAM UDIN 14 Mar 1915 in NYC, son of VICTOR UDIN and SARAH URSOLOWITZ. He was born 1880 in Russia and died 29 Apr 1957 in Crown Heights, Bklyn, NYC. Sources: naturalization and death certificates.
Frieda emigrated from Kamenets-Litovsk to the US on 03 Jun 1902 on the ship FRIESLAND. She came with her mother and siblings. The ship manifest states she was 15 years of age, corroborating her birth year of 1887. While she is listed in the 1910 US Census, her age is illegible. Sam immigrated from Minsk in 1907 and was naturalized December 11, 1913.
Sam's naturalization papers describe him as 33, 5'6", brown hair, brown eyes, from Russia and living on East 139th Street. It is interesting to note that he is 33 here, and two years later when he marries, he is 29! Given his naturalization age matches his death certificate, I have used this age to calculate his birth date at 1880.
Supposedly, Nathan Hershkowitz introduced Frieda & Sam Udin. Frieda & Sam Udin's marriage certificate, 14 Mar 1915, lists Sam as a "Manufacturer" (his death certificate lists him as a Pattern Maker—Ladies Garments) and lists his parents as Victor Udin & Sarah Ursolowitz. He was 29 and lived at 526 E. 139th Street, Bronx, NY. She was 24 and lived at 236 "Matison" St. (Madison St.?) in NYC. Her parents are listed as David Pomerantz & Rosie "Dubuier" (sp?).
According to the 1920 census information, Sam was a tailor in a dress factory.
Frieda's death was reported 19 Oct 1973 by her daughter, Ada Ross who lived in Long Beach, NY at the time. Frieda died in Promenade Nursing Home in Queens, NY. Prior to that she had been living at 140 Beach 114th Street in Rockaway Park, NY. Sam died 30 Apr 1957.
FRIEDA and SAM are buried in Mt. Hebron Cemetery, NY. Workman's Circle Plot Sect 6 Row 16 Grave 15 Block 113.
Children of FRIEDA POMERANTZ and SAM UDIN are:
i. ADA (UDIN) ROSS, b. 31 Dec 1916, NYC.
ii. LIL (UDIN) UHRMAN, b. 30 Jun 1917, Bronx, NY; d. 02 Jan 1992.
iii. SYLVIA (UDIN) SHUMAN, b. 16 Feb 1920, NYC.
SARAH POMERANTZ (David's daughter) (aka Sarah Levine)
SARAH POMERANTZ (DAVID 2, NATHAN 1) was born about 1896 in Kamenets-Litovsk, Belarus and died 05 Apr 1962. She married SAM LEVINE, son of Hyman Levin and Rhoda Unknown on 6 Jun 1922 in NYC. (Marriage Certificate # 17879) Sam was born 1892, and died 18 Oct 1959.
Source: 1920 census and immigration records
Sarah immigrated to the US from Kamenets-Litovsk on 03 Jun 1902. She came on the FRIESLAND with her mother and siblings. The ship manifest states she was eleven, implying a birth year of 1891, however, we believe she was seven years old when she immigrated and was actually born about 1895 or 1896. See photograph above. This supposition is supported by the 1910 US Census that states she was fourteen and the fact that Sarah's marriage certificate states she was twenty-seven when she married in 1922. These facts imply a birth year of 1895 or 1896.
Sarah's husband Sam was drafted into the Army during WWI. He was not sent overseas and served as a tailor. He did some boxing while he was in the army. After the war he owned a shirt factory in Pennsylvania and after the depression he went to work for Breakstone which was eventually bought out by Kraft. Manny (Morris) Rubin got Sam the job. Sarah began working in a factory when she was 12 years old.
Sam and Sarah Levine are buried at Beth David Cemetery in NY. Sam is in Section G, Block 4, Row F Grave 5R#13. Sarah is in the same section in Grave #6 Line I.
Child of SARAH POMERANTZ and SAM LEVINE is:
i. SHIRLEY (LEVINE-SCHACTER) MORSON, b. 22 Mar 1923, NYC; m. (1) BARRY SCHACTER, Nov 1947, NY; b. about 1912, Austria; d. 25 Aug 1958, at sea; m. (2) DAVID MORSON, 22 Oct 1960, NY; b. 14 Sep 1913.
SAM ( SHOLEM) POMERANTZ (David's son)
SAM (SHOLEM) POMERANTZ (DAVID 2, NATHAN 1) was born about 1898 in Kamenets-Litovsk, Belarus, and died about 1985 in NYC. He married ELSIE BERGERSOHN daughter of Samuel Bergersohn and Clara Garfinkle in NY on 13 Jun 1925. (NYC Marriage Certificate #9053) ELSIE was born in 1904 in Galicia and died after 1985 in NYC.
Sam immigrated with his mother and siblings and arrived on 03 Jun 1902, on the FRIESLAND. The ship manifest states he was four, corroborating his birth year as 1898. He was naturalized 17 Dec 1925, (NY Vol #240 Pet #60296 Cert #2139383). He was listed as age twelve in the 1910 US census but in the 1920 census he was erroneously listed as age thirty-two. Sam was in the diamond/jewelry business. He claimed he was twenty-nine when he married in 1925, also supporting his birth year as 1898.
SAM and ELSIE are buried in Wellwood Cemetery, Pinelawn, LI, NY Sam's unveiling was 9 NOV 1986.
Children of SAM POMERANTZ and ELSIE BERGERSOHN are:
i. LORRAINE POMERANTZ, b. about 1926, NYC; d. about 1990, NY.
ii. MARTIN POMERANTZ, b. 12 Aug 1928, Brooklyn, NY.
Lorraine went to Mt. Holyoke College and Martin lives in Inwood in NYC and earns his living as a door to door linen salesman.

ISRAEL and IDA'S CHILDREN
SAMUEL POMERANTZ (son of Israel)
SAMUEL POMERANTZ (ISRAEL 2, NATHAN 1) was born 1898 in NY and died in 1985 NYC. He married RUTH BERGER, born 1907. They had three children: Robert b. 1933, Ann b. 1947 and another child, b. 1937 who died young.
REBECCA (BELLA) POMERANTZ
REBECCA POMERANTZ (ISRAEL 2, NATHAN 1) was born 1900 in NY and died in 2005 NYC. She married LOUIS UNKNOWN. They had no known children. Rebecca's birth certificate in 1900 (is Rebecca really Bella?) states that Israel was twenty-nine and that he was a laborer. The family was living at 176 Sand Street, Bklyn at the time.
HANNAH POMERANTZ
HANNAH POMERANTZ (ISRAEL 2, NATHAN 1) was born 1903 in NYc and died 1907 NYC. Her death certificate states the family lived at 176 Prospect St. in Brooklyn at the time of her death. Hannah, age four, was run over by a trolley and died due to traumatic amputation of her legs. She was buried at Mount Sinai Cemetery on 29 Aug 1907. It is reported that the trolley motorman knocked on Israel's door to tell him about the tragedy. Overcome with grief, Israel struck out at him and ended up being sued for the assault.
ZELDA POMERANTZ
ZELDA POMERANTZ (ISRAEL 2, NATHAN 1) was born 1905 in NY and died in 1999. She married JACK MALTZ. JACK died in 1972. They had no known children.
ELLA POMERANTZ
ELLA POMERANTZ (ISRAEL 2, NATHAN 1) was born 1915 in NY and died in 1964. She married HARRY MARCUS b. 1905 and d. 1977. They had one daughter, ILENE MARCUS, b. 1947.
SAMUEL and LENA'S CHILDREN
NATHAN POMERANTZ (son of Samuel)
NATHAN POMERANTZ (SAMUEL 2, NATHAN 1) was born 19 Jun 1898 in NY and died in NYC. On 11 JAN 1931 in Brooklyn, NYC he married RIVA BLOOM, born 1907.
Nathan and his sister Sarah were twins. It is believed an earlier set of twins born to Sam and Lena did not survive.
Children of NATHAN POMERANTZ and RIVA BLOOM are:
i. SAMUEL POMERANTZ, b. 10 Dec 1932, NY; d. 14 Feb 2004, NYC.
ii. HERBERT POMERANTZ, b. 1938, NYC
ASSUMPTION: Samuel Pomerantz (b. 1932) was named after his grandfather.
SARAH POMERANTZ (Samuel's daughter) (aka Sarah Abrams)
SARAH POMERANTZ (SAMUEL 2, NATHAN 1) was born 19 Jun 1899 in NY, and died 18 Feb 1993 in Allentown, PA. She married JOE ABRAMS 28 Nov 1929 in NYC. He was born 10 Apr 1900 in NY.
Sarah and her brother Nathan were twins.
JOE ABRAMS made and manufactured handbags. Sarah is buried in Allentown, PA.
Child of SARAH POMERANTZ and JOE ABRAMS is:
i. LEONARD ABRAMS, b. 06 Jul 1931, NYC.
WILLIAM POMERANTZ
WILLIAM POMERANTZ (SAMUEL 2, NATHAN 1) was born 17 Apr 1900 in NYC, and died 29 Jan 1972 in Flushing, NY. He married BELLE FRUITBEIN 21 Oct 1928 in NYC. She was born 11 Dec 1907, and died 24 Jan 1994.
After his fighting career as a Golden Gloves Boxer ended, Willie owned a gas station at 198 W. Bway, NYC (bet. Franklin & Walker Sts) Occupation: Mechanic
BELLE FRUITBEIN's family manufactured dresses and Belle worked for them as a bookkeeper. Willie and Belle are both buried in Mt. Hebron Cemetery, Flushing, NY. They are buried in the Fruitbein plot.
Children of WILLIAM POMERANTZ and BELLE FRUITBEIN are:
i. SONIA (POMERANTZ) DAVIS, b. 04 Apr 1931, NY; d. suddenly on 16 Apr 1997 of an abdominal aortic anuerysm. Sonia married Neil Davis and both are buried in Beth Moses Cemetery, NY.
ii. RHODA (POMERANTZ) BRECKER, b. 21 Mar 1936, NYC. Rhoda married Martin Brecker and they had quadruplets in 1963.
JACOB POMERANZ
JACOB (JACK) POMERANZ (SAMUEL 2 POMERANTZ, NATHAN 1) was born 01 Jan 1904 in NYC, and died Mar 1975 in NYC. He married ROSE EAGLE 12 Mar 1939. She was born 19 Feb 1908 in NYC, and died 06 Apr 1997.
Jacob is the only one in the family that spelled his name without the "t" on the end. Jack was a big time gambler. He used to bet on baseball and other sports. At some point, his mother bailed him out of some very deep trouble (being chased by bookmakers, federal tax evasion, etc.) and he supposedly stopped betting. His two best friends were also born on Jan. 1st. Occupation: lady's handbags.
Child of JACOB POMERANZ and ROSE EAGLE is:
i. HAROLD STEPHEN POMERANZ, b. 28 May 1943, NYC.
TOMMY POMERANTZ
TOMMY POMERANTZ (SAMUEL 2, NATHAN 1) (aka Elias) was born 12 Feb 1906 in NYC, and died Dec 29, 1986 in MA. He married BUNNY (CLARA) BLUMBERG after 1940 in NYC.
Tommy and his sister Belle were twins. Occupation: 1930, auto mechanic. Tommy and Bunny got engaged in 1940 in the Catskill Mountains, NY. Tommy briefly owned a bar in Livingston Manor, NY that was blown away in the hurricane of 1938.
Tommy was much loved as a favorite uncle and in general, as a wonderful person. In turn, he especially loved his older brother Willy, perhaps because they had lost their father when they were so young. His daughter Teri comments: "How my grandmother must have struggled to keep her family together at that point in time! What an accomplishment that was! My father could never remember a time when he hadn't worked. I don't know if he ever graduated high school, but he was a smart man, who could take in the full measure of a situation in a minute. He wasn't educated, but he was quick and very intelligent."
Tommy and Bunny are buried in New Montifiore Cemetery in NY.
Child of TOMMY POMERANTZ and BUNNY UNKNOWN is:
i. THERESE (Teri) (POMERANTZ) RUMPF, b. 17 Apr 1948.
BELLE POMERANTZ (aka Belle Futterman)
BELLE (POMERANTZ) FUTTERMAN (SAMUEL 2, NATHAN 1) was born 12 Feb 1906 in NYC, and died June 7 1999 in FL. She married ABRAHAM FUTTERMAN about 1968 in NYC.
Belle and her brother Tommy were twins. Belle & Abe married late in life and had a small wedding in Manhattan. Abe had been married previously. His first wife died when she was hit by a car while crossing the street in Manhattan near Abraham & Strauss Department Store. Abe had children from his first marriage. Belle worked for Paris Decorators. She is buried in Boca Raton, FL.